Welcome To
Quilt Studios
Started by a team of experienced connoisseurs in Quilting and Arts, Quilt Studios in Jayanagar of Bangalore, Karnataka is a one-stop solution for all the quilters and hobbyists.
About the Team
We are a team in the field of Art of Crafts which has made us one of the top quilting classes in Bangalore. Today, we not only teach quilting but also cater to supplying handmade bags, bedsheets, etc. at your doorstep. With the roots in Bangalore, we strive to be the best Art and craft classes in India. We offer Bag making classes, Quilt making classes, Basic sewing classes.
Knitting, Tatting, Patchwork, Sewing, Macrame Art and a variety of Hand Embroidery, Paper Piecing, Crochet Tasseling and Hand Applique are some of the art forms that we enjoy creating and handcrafting for over 10 years now.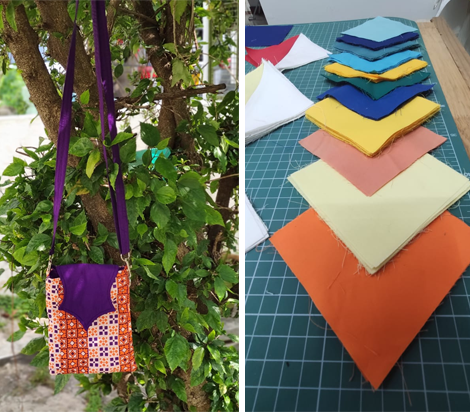 Naveen is a very good teacher. Quilting is an expensive hobby as it requires special often imported tools, imported fabrics supplies etc. He encourages students to bring their own fabrics and teaches them the basics. He does not make you buy expensive kits and will teach you as per your requirement. In addition, he is an expert sewing machine technician.I took my own machine to his place and he patiently explained to me the use of each and every attachment.Definately the best place for beginners in quilting.
Madhavi John

The customer service was very good and the quality of workmanship also too good. Even training is offered for those who are interested to learn.
Bhuvana .M
Overall I was very impressed with the condition of the purse. The seller was very helpful, and shipped my purse very carefully right away. I would recommend this shop, and I plan on purchasing again. I have purchased a few masks and this is by far my favorite! Beautifully crafted, so soft and comfortable. Arrived very quickly and customer service was wonderful
Manasa Rachayya
Amazing customized products got here. Even training is offered for those who are interested to learn to get their own kind of products done. Varieties of quilt design done on demand. It worth the visit. Do have a look at this place to get customized products according to your requirements. People, there are very helpful and kind.
Raveena Hiremath